We all are about wireless technology. Wireless this and wireless that. But when you really need a solid connection and a more secure connection, you need a physical cable run between the two points. But, like most other things in life, simply running a cable from point A to point B at your Atlanta, Marietta, McDonough, Smyrna, Stockbridge, or Stonecrest business isn't as simple as you might think it is. Having a professional data cabling installation by Media Genius will ensure that your cables are properly run, out of the way, yet easily accessible and identifiable in the future.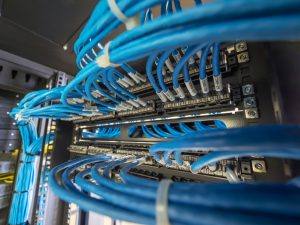 Running Cable in New Construction
If you are building a new building, that is the perfect time to run the data cables that you will need now and possibly in the future. This is something that should be discussed early on in the process of the new construction so that they can work with the other specialty trades like plumbing and electrical to ensure that there are no issues when they each do their work.
Think about the offices that you will be having, the various workspaces that you'll have, the IP cameras you may have, the internet connection you will require, plus the different office equipment that need to have a connection to your network. You will want to run data cabling to each of these offices, have the data cabling ready for the workspaces and office equipment, security cameras, other security access control areas, plus where your network servers will be. Suddenly it's not just running a couple of wires, but running miles of cabling to ensure a properly connected network for your business and the connection to the internet.
Benefits to Professional Installation
First, you will have a clean installation because Media Genius technicians will keep the cabling neat and tidy. They will map out where the cabling has to go before they start to run the cables, so you and they can know what the plan is and there is a reason for the layout provided. Because they take the time to map out the cabling needs ahead of time, there is less time used for running the cables. Installation time is reduced because of the already laid out map of where the cables need to go. You will also have consistency in the layout when you have data cabling professionals do the job. Stray cables that go off in unusual directions just don't happen because there is a method to the cabling madness. Keep your data cables at your Atlanta, Marietta, McDonough, Smyrna, Stockbridge, or Stonecrest business clean and orderly by having a professional data cabling done by Media Genius.