Breaking the glass ceiling starts with one business at a time. At Media Genius, we are proud to pave the way for other minority-owned business owners and women business enterprises in Atlanta and the surrounding areas. Through quality services and unmatched expertise, we provide you with the business security systems you need to stay safe at all times.
From fire alarms and commercial security cameras to data cabling and more, we equip your business with the media solutions required to provide you, your clients, and your workers with optimal protection. If you're looking for a quality business security system in Marietta, McDonough, Smyrna, Stonecrest, or Stockbridge, GA, then look no further. Our minority-owned business has the solutions you need at a price you can afford!
Minority & Women Business Enterprises
It's our honor to contribute to the community of women's business enterprises and minority-owned businesses. With a passion for our craft, we prove that you don't have to be a part of the majority to be a media genius!
Our team of experts has years of combined experience and a passion for electrical design that transcends gender norms to provide enterprises with the business security systems needed to be safeguarded against a variety of threats. Whether you're looking to install a fire alarm system or an access control system, we give you what you need.
At Media Genius, we have certifications and affiliations with prominent women business organizations such as:
Woman Business Enterprise (WBE)
Minority Business Enterprise (MBE)
National Association of Women In Construction Atlanta Board of Directors
National Women Business Owners Corporation – Construction Liaison
Minority Business Enterprise (MBE)
Woman Business Enterprise (WBE)
Access Control Systems, Data Cabling, and Commercial Security Cameras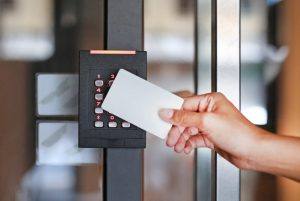 At Media Genius, all of our services are designed to provide commercial businesses in Atlanta, Marietta, McDonough, Smyrna, Stockbridge, Stonecrest, GA, and the surrounding areas with affordable and functional business security systems and low-voltage electrical design.
Access Control Systems – Our access control system solutions give you the power to manage access to your business from a single platform. Ensuring that all systems are user-friendly, we give you the customized security that your business needs and the technology to keep you safe.
Data Cabling – Data cabling, also known as structured cabling, provides you with organized cabling for your system. With over 50 years of combined experience and a team of licensed technicians, we improve the design of your infrastructure with efficient cabling systems.
Commercial Security Cameras – Every business needs a commercial security camera system! We help you get exactly what you're looking for to improve the security of your business. From dome cameras to CCTV systems, we help you find the surveillance solutions that are right for your business and your budget.