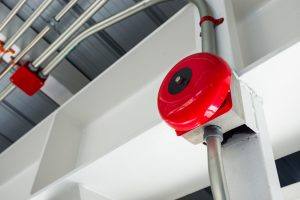 We have designed Media Genius to be the fire alarm system installer of choice among government and commercial customers in Sandy Springs. We know there are many different stakeholders that will be reviewing your system and your system may be required to fit many regulations. Local municipalities, insurance carriers, investors and even customers may have their own requirements.
Our history and experience includes working with Sandy Springs companies and buildings of all size. This includes the design of electrical and data systems, the installation process, and knowledge of local and national codes. In fact, our project team designs NFPA code-compliant fire alarm and life safety systems. Since you are getting your system from a security company, the option to also tie in other functions such as CCTV systems or security systems is available to you. Some buildings even add a speaker and announcement system to give directions in the time of emergency.
Fire Alarm System Installation in Sandy Springs
Our business was designed and created to give commercial customers the best business security systems possible. We do this through high-quality equipment, experienced technicians, and excellent customer service. Not only can you review our ratings and testimonies, but we can also provide references on past fire alarm system installation.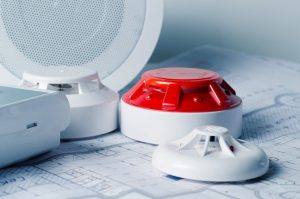 When you start to look at a fire alarm system, you might get overwhelmed at all the different components. Of course this will lead to the worry about cost. Know that at Media Genius we believe that every building and business should be able to get a quality fire alarm that is code-compliant at a reasonable cost. This is why we are always competitively priced without compromising the quality of your Sandy Springs fire alarms.
We carry all required licenses, insurance, and certifications to comply with low voltage electrical contracting regulations. And we are also available for continued support, service and testing. There are many different agencies that will require your building to have periodic testing. Let us help set up a schedule that will keep you compliant.
We test, inspect and repair:
Control valves and switches
Main alarm panels
Batteries
Flow switches
Tamper switches
Low pressure switches
Detectors
Horn and strobe functions
Electrical wiring
Device positioning
Site conditions
Contact our sales department for more information. We will happy to help you with anything you need even if you didn't get your fire alarm system installed by us.
Commercial Fire Alarms in Sandy Springs
Sandy Springs is a growing city located in northern Fulton County. While the population was 94,000 in 2010, the 2019 estimate is 110,000. This puts Sandy Springs as one of the largest cities in the State of Georgia and one of the fastest growing.