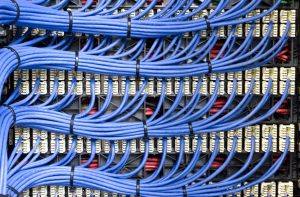 Media Genius offers many different services to Sandy Springs business. But all these businesses have one thing in common – cabling. The different systems may need electrical work, communications equipment, service processors and more. We work with data cabling in Sandy Springs every day and we love what we do.
We offer the following sales and installation services for commercial and government clients:
Security Cameras
Alarm Systems
Background Music
Healthcare TV and Pillow Speaker Installations
Low Voltage Cabling
TV and Screen Installations
Our data cabling service applies to businesses that need the integration of quality connections throughout their building to complete their business functions. We know that every detail matters. One cable not connected, or labeled improperly for its use can bring down a whole section or system. You need a dependable data cabling system, and we strive to provide it for our Sandy Spring customers every time. Our installers are certified and ensure your data cabling meets all local and federal standards.
Data Cabling and Wiring for Expansion in Sandy Springs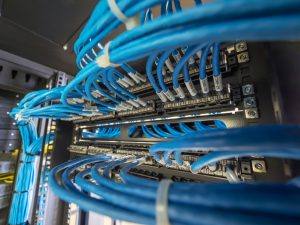 At Media Genius, we can take on projects of any size for Sandy Springs commercial businesses and government operations.
Received a new contract and need to hire more workers pronto?
Looking to expand or switch projects to in-house?
Constructing a new building?
Remodeling?
We can handle all your data cabling needs from just a few cubicles to a full restructuring. Time is money, so count on Media Genius to get your data cabling done right the first time. Please be aware that we also do security systems and fire alarms so we can do all your systems at one time or help with any upgrades you may need. When you are looking at construction, remodeling, or expansion, remember that we can get involved as early as possible to work with the starting designs for your data cabling.
Data Cabling: Building Industry Consulting Services International
Our data cabling installers follow BICSI standards to ensure your network has 99.9% uptime. BICSI is a professional association that works to support the advancement of information and communication technology (ICT). More than 26,000 members work together to follow the best standards.
Different standards in BICSI involve:
Cabling Installation
Cable Properties and Values
Conduits, Pathways and Spaces
Color, Labeling and Documentation
Mixing of Telecommunication and Power Cabling
We work with the BICSI standards as they have been developed by the best practices for successful and effective data cabling.
Data Cabling in Sandy Springs, GA
Sandy Springs, GA has a number of well-known corporate headquarters. The giants UPS, Newell Brands, Inspire Brands, Cox Communications and Mercedes-Benz USA all have their corporate headquarters within the city limits.